Polley Truck Wash : Washing station for all types of vehicles
Our washing station welcomes both the needs of company owned vehicles as well as privately owned vehicles. We can wash all types of vehicles: lightweight vehicles, Caravans, vans, trailers etc…
Our professional team adapts to your needs and offers a thorough wash with a high level of precision and quality.
In our washing tunnel, we have the first workshop which is dedicated to a manual clean with a high pressure washer, and a second workshop for the finishing touches using a conveyor carwash from the brand Christ.
Interior
We welcome and treat all types of needed washing/disinfection tasks for Lorry's, refrigerated trailers, tanks and more using sanitary methods which respect the norms of the nutritional regulation standards.
Exterior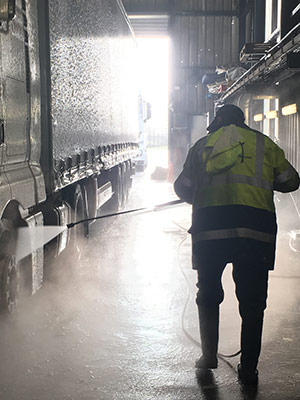 1st workshop : The cleaning tasks are carried out with care by one of our employees. The soap is applied with the help of a high pressure washer which uses warm water and is equipped with a foam sprayer as well as a brush. This ensures that all greases are removed effectively.
This thorough manual washing procedure carried out by one of our agents enables an effective cleaning of the dirtiest areas, as well as access to areas which under normal circumstances are difficult to clean (such as the frame, in between the wheels, rims etc…) and ultimately give a perfect result.
Lastly, we also offer to apply an aluminum cleaning product for the rims and tanks.
2nd workshop : The conveyor brush wash guarantees an effective clean without any risks to the body of the vehicle :
Brushing
Foaming soap
High lateral pressure
Cleaning of frame and wheels
Cleaning of low sections, rims
Traceless rinse
There are two possible offers :
Quick wash : only applies the use of the conveyor wash : 2nd workshop
Complete wash : Use of both workshops
Access point
Polley Truck Wash - 356 avenue de la liberté, Zone de Fret Transmarck, 62730 Marck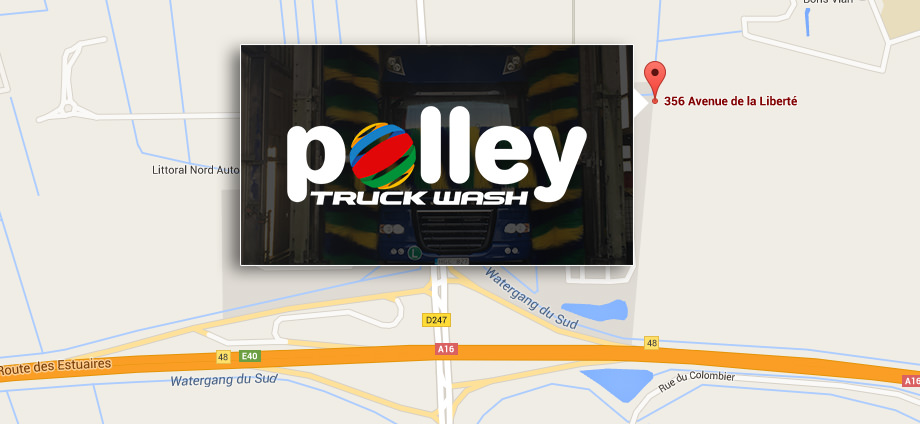 itinerary
Additional Information
Opening hours
Monday to Friday
from 7:30 a.m to 7 p.m
Saturdays from 7:30 a.m to 1 p.m
Payment methods
Cash, UTA, DKV and credit card (no minimum purchase requirements)
Employees
x2